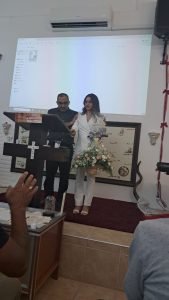 Mishleen is a dear young lady who had been attending Home of Jesus the King Church since she was in 9th grade, and whose parents have been pillars at church for many years. She had always had a passion for the Word of God, attended church faithfully, and was also an active member of our church choir. To have someone like Mishleen in your church is truly a blessing!
After Mishleen had completed high school in Nazareth, she felt the Lord calling her to become a medical doctor, and as such, left for Romania to start her 7-year course in qualifying as a medical doctor. All throughout her time in Romania, she stayed in close communication with us all, and our church consistently prayed for her and supported her spiritually and practically in any way possible.
Mishleen has now finally finished her degree in Romania and has fulfilled her dream and calling of becoming a medical doctor! She is back with us in Nazareth and is now preparing for the Israeli governmental exam. This past weekend we invited Mishleen to the pulpit to testify of how God had carried her through her studies, and to thank her parents, to thank the church, as well as Pastor Saleem and Nisreen for always standing with her through difficult times.
It was so touching to see this young woman of God share about her commitment to the Lord and her dream to glorify Jesus through her work as a doctor, and to continue being a witness wherever the Lord takes and leads her. We thank God that He has carried Mishleen through her studies in Romania, and back to us again, to fulfill His calling on her life. Amen!